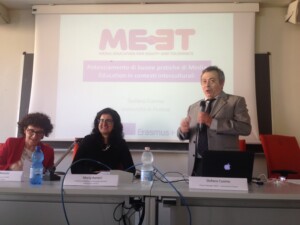 On 24th and 25th May 2018 the University of Florence hosted the international conference "Media education in the global society. Experiences and transfer of good practices", an event organised by the Italian team of MEET. The conference focused on Media Education as a means to promote an intercultural and inclusive citizenship at school and in the wider society.
The first day started with Maria Ranieri and Stefano Cuomo introducing the objectives of MEET and the overall articulation of the project. Next Francesco Fabbro, Andrea Nardi and Mario Di Carlo presented the results of the MEET's classroom activities carried out in Italy and in Germany. Donatella Nucci, instead, illustrated the intercultural reality of the eTwinning community. Furthermore, representatives of the municipality of Prato and Florence and headmasters of local secondary schools shared their experiences and perspectives about media and intercultural education in the context of a roundtable chaired by Antonio Fini.
The second day of the conference was dedicated to the topic of "intercultural communication", particularly in the news and social media. The academic researchers Andrea Guazzini and Carlo Sorrentino provided respectively a psychological and sociological perspective on how mechanisms of (online) information reception and production on certain sensitive topics like migration work. The journalist Leonardo Bianchi (Vice Italy) concluded the conference with a lecture titled "The eternal invasion. How misinformation affects the public debate about migrants".