Public event in Vienna, 4th of June 2018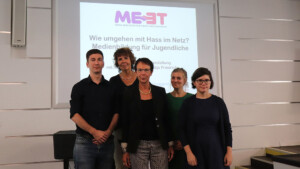 How to deal with online hate speech, cyber bullying and the spread of online fake news? These were the topics of discussion at a public event that took place at the Pädagogische Hochschule Wien (Vienna School of Education) on 4th of June 2018. Organized as part of MEET's public outreach efforts, the event brought together more than 50 participants: school teachers, social workers, public officials and academics listened to two lectures and engaged in a lively debate. The debate was moderated by Benjamin Opratko, member of the Austrian MEET team.
First, Ingrid Brodnig presented various dimensions of 'Hate on the web' that young people are forced to deal with. Brodnig is an Austrian journalist and author, whose recent books "Hass im Netz" (Hate on the net) and "Lügen im Netz" (Lies on the net) have become national bestsellers. She has recently been appointed as 'digital champion', an ambassador for the EU Single Digital Market, by the Austrian government. Brodnig emphasised that social media sites like Facebook and Youtube, while offering unprecedented opportunities for sociality, also structurally encourage bullying behaviour through their algorithmic design, and enable the rapid spread of false information. This development presents new challenges for media education and pedagogues generally. "There is no single weapon against the spread of hate speech and fake news", Brodnig stated, "but there are numerous strategies and instruments that can be used in the classroom and in youth work". However, they require basic knowledge on the teachers' part about the digital environments and how young people make use of them.
In the second part, Katja Friedrich from MEET's German partner organisation medien+bildung.com, presented the MEET project and the opportunities it offers for teachers and educators to deal with these topics. Through MEET, project partners in five European countries – Austria, Belgium, Germany, Italy and Slovenia – develop a toolkit for media education that helps tackle such challenges in the classroom. Its stated goal is to promote the values of equity and tolerance among European youth through engaging with new media. This involves both the side of production – the creation of content such as pictures and videos that can be shared online – as well as the side of consumption – giving school students the resources to competently assess and critically engage with online content. Friedrich presented three of six learning scenarios that have been tested in German, Italian and Slovenian schools. All of them will be made available online as Open Educational Resources by the end of the year.
The event finished with a lively and productive discussion among the audience, sharing problems and strategies to deal with from their practical experience as teachers and educators.