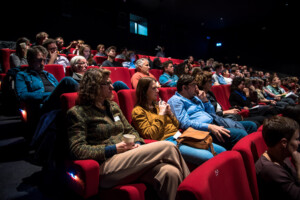 Taking into account the results of the practical testing of MEET learning scenarios, the expertise of the associated partners in all five countries and the feedback and recommendations of the international experts on media literacy and anti-discrimination at a round table in Brussels during the final MEET conference, the MEET partners developed the following recommendations.
Tenant compte des résultats de l'expérimentation pratique des scénarios d'apprentissage MEET, de l'expertise des partenaires associés dans les cinq pays et des réactions et recommandations des experts internationaux sur l'éducation aux médias et la lutte contre la discrimination lors d'une table ronde organisée à Bruxelles pendant la conférence finale MEET, les partenaires MEET ont formulé les recommandations suivantes.
Contribute to a political and cultural climate supporting equity and tolerance
Emphasise intercultural education in integration measures
Research conducted by MEET highlights the relevance of the socio-political and cultural climate in which citizenship, media and intercultural education take place. For media education to play an active and positive role in processes of integration in migration societies, all stakeholders have an obligation to contribute to a positive socio-political and cultural climate in their respective countries. This includes shifting the focus of debates on integration from an exclusive attention on language learning to learning about diversity, processes of exclusion and inclusion, and increased awareness of structural inequalities, discrimination and racism.
Confront ethnocentric, nationalist, culturalist and discriminatory discourse and policies
Teachers and schools cannot solve the problems of contemporary societies alone and without changes in the wider social and political field. For CMIE to be able to contribute to the promotion of respect, human rights, intercultural dialogue, tolerance and solidarity, it has to be in accordance with broader efforts to confront discourses and policies that legitimize hate speech and discrimination. Crucially, these efforts need to aim at a definition of citizenship as a political, not a cultural or ethnic term.
Strengthen public media's role in media education
Public media should be addressed as an agent in the field of media education and social exclusion. Hence state institutions should foster the plurality of media including private but also public media outlets. They should be encouraged and adequately funded to provide public media education (such as TV and online programs, radio, podcasts), especially for younger audiences.
Educational Policies
Systematically include comprehensive media education in education policies
Most policy documents on European, national, and federal state level acknowledge the importance of CMIE for the promotion of respect, tolerance, human rights, intercultural dialogue and solidarity. This comprehensive approach to media education perceives media education as intrinsically related to citizenship and intercultural education. However, CMIE often lack concrete implementation strategies, leading to a culture in educational practice that treats media education as of secondary importance. In many cases, implementation depends on the commitment of individual teachers. MEET research has identified the need to recognize comprehensive media education as a core element of educational practice, to systematically include it in educational policy development, and to devise concrete strategies for implementation on all levels. Testing the MEET Learning Scenarios showed that the short duration of the educational interventions was widely perceived as a key obstacle in developing an adequate and critical understanding of media among students. The systematic inclusion of CMIE in education policies was also identified as the number one priority task in a survey among CMIE experts at the MEET final conference in Brussels.
Ensure adequate funding for comprehensive media education
Recognition of the importance of CMIE and support by policy makers should include systematic funding of projects for comprehensive media education. This includes coordinating and providing funds for third-party providers of media education in the field of civil society and non-governmental organisations (NGOs), as they can offer specialised knowledge and resources in this field, while allowing them to remain autonomous from state as well as private business funding, thus bringing the best solutions to the field. However, public institutions should not delegate their responsibilities in the field of CMIE to private providers or civil society actors but acknowledge them as core stakeholders of public education efforts.
Adapt educational policies to include a critical media perspective
Strategies to implement CMIE should not restrict media education to a 'digital literacy approach', but adopt a critical perspective on digital media. This would include taking into consideration design and distribution of digital media, and discussing alternative models, such as those promoted by the open software movement. Also, critical media education should be comprehensive, i.e. it should include perspectives of active citizenship, interculturality, equality, tolerance and solidarity. As MEET research has shown, this is particularly important when media education addresses sensitive political topics such as migration, racism and social (in)justice. All processes of policy making and implementation need to include the expertise of NGOs, civil society institutions and scientific experts to develop a coherent critical approach that informs media education policies.
Curricula
Integrate media education in citizenship and intercultural education
Media education is widely acknowledged as an important transversal issue, and covered in a broad variety of courses, such as languages, history, and sociology. At the same time, the development of new or revised courses related to citizenship and intercultural education in many countries offer a unique opportunity to integrate media education in the education process, and connect it to questions of democracy, citizenship, and intercultural learning. In countries where no citizenship and intercultural courses exist (such as Austria), they should be introduced into the curricula.
Implement individual courses on media education
While treating media education as a cross-curricular topic is important, offering individual courses on media education can effectively complement existing courses. They are an important element for pursuing the goal to include all students in relevant courses and provide them with high quality knowledge and skills. More specifically, MEET research attested that participatory action-research approaches facilitated valuable 'training by observing and teaching' processes. They should therefore be actively promoted in media education courses. This approach to media education allwos to include critical citizenship and intercultural education.
Consider compulsory courses on media education
Introducing media education in the school curriculum as a compulsory subject can effectively support comprehensive media education (CMIE) in the long term, as well as the constant development and improvement of teaching resources. At the same time, this should not lead to deferring media education to dedicated courses only, eliminating it as a cross-curricular topic. Policy makers should be aware of this risk.
Schools
Provide schools with adequate equipment and technical infrastructure
In order to implement comprehensive media education strategies (CMIE), educational facilities need to have access to technological devices for actively engaging students in the process (such as computers and tablets), as well as infrastructure (such as fast internet connections).
Allow space for project teaching and cooperation with third party providers
Cooperation with NGOs and civil society institutions offering workshops and trainings have proven highly effective in comprehensive media education. The MEET project recommends to foster, actively promote and publicly fund such cooperation and create room for project teaching supplementing the regular curriculum.
Teacher training
Adequately organize and fund teacher trainings on comprehensive media education
The MEET project identified inadequate training of educators as the key obstacle in implementing necessary strategies for the improvement of comprehensive media education. Testing of the Learning Scenarios showed that initial lack of knowledge about media analysis oriented activities and a scarce exposure to classroom experience prevented some teachers from developing a satisfactory level of media literacy skills. In order to tackle this obstacle, the MEET project suggests four concrete remedies: Allocate sufficient funds for teacher trainings and for continuous development of resources which can be used in teaching practice. Adopt or adapt regulations on qualifications for teacher trainings on comprehensive media education. Teacher training in media should include the development of inclusive pedagogical strategies to counter racism, discrimination and inequality, and increased awareness of multimedia teaching tools. Connect teachers and researchers on comprehensive media education, as stronger and more continuous cooperation allows constant adaption in a rapidly changing field as well as developing 'co-design skills' and knowledge in the area of comprehensive media education. And last, but no least, ensure continuous monitoring and evaluation of teacher training by experts.