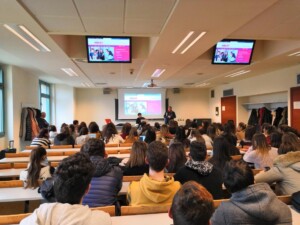 Texte en français ci-dessous.
MEETolerance event at the University of Florence. Students presented their videoproducts to future teachers, who provided them with a formative feedback to further improve their media productions. In addition, 4 awards were attributed to the students for Direction, Editing, Screenplay and Special effects.
Français
MEETolerance à l'Université de Florence. Les élèves ont présenté leurs produits vidéo aux futurs enseignants, qui leur ont fourni une rétroaction formatrice pour améliorer davantage leurs productions médiatiques. De plus, 4 prix ont été attribués aux étudiants pour la réalisation, le montage, le scénario et les effets spéciaux.