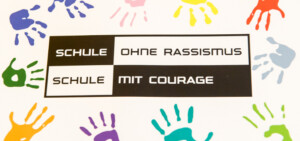 "School without racism" is a project for all school members. It offers children, adolescents and educators the opportunity to actively shape the climate at their school by consciously addressing any form of discrimination, bullying and violence. "School without Racism – School with Courage" is the largest school network in Germany. It has over 2,500 schools attended by around 1.5 million students (as of September 2017).
Every school can earn the title if it fulfills the following requirements: At least 70 percent of all people who study and work in a school (pupils, teachers and technical staff) undertake to sign up against any form of Actively use discrimination in your school, intervene in conflicts and regularly hold project days on the subject.
Those who commit themselves to the goals of a "school without racism – school with courage", signs the following commitment:
I will work to make it a central task of a school to develop sustainable and long-term projects, activities and initiatives to overcome discrimination, especially racism.
Whenever violence, discriminatory statements or discriminatory actions occur in my school, I turn against it and work to ensure that, in an open discussion of the problem, we find ways to respect each other in the future.
I am working to get my school to run a project on discrimination once a year to tackle all forms of discrimination in the long run, especially racism.
The title is not a prize and an award for work already done, but is a commitment to the present and the future. A school bearing the title is part of a network that says: We take responsibility for the climate at our school and our environment.
Discrimination and bullying occur in everyday life of students both online and offline. For "schools without racism – schools with courage" the topic of media education plays a special role. The German MEET partner medien + bildung.com is also a partner of the German network of "schools without racism". The media educators of medien + bildung.com work with special workshops for "schools without racism". The focus of the workshops is the discussion with the pupils: How can discrimination be recognized in the net? How can young people provide support to prevent discrimination?