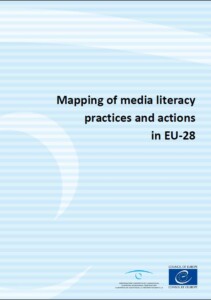 Media literacy – our capacity to access, have a critical understanding of and interact with the media has never been as important as it is today. So what is the EU doing to encourage improved media literacy? This study examines measures being taken across the European Union to foster our critical appreciation and understanding of the mass media.
The purpose of the study "Mapping of media literacy practices and actions in EU-28" is to provide a comprehensive snapshot of media literacy initiatives in Europe. It was financed by the European Commission and written by the European Audiovisual Observatory.
The study is the first major mapping of this field in Europe, providing a detailed analysis of the main trends, based on a selection of 547 projects. The authors found that initiatives to develop 'critical thinking' were the most prevalent, followed by 'media use' covering projects which aim to improve our ability to search, find and navigate and use media content and services.
Other major findings include the very active role played by civil society with 'extra-curricular projects aimed at 'teens and older students' as the main target demographic for media literacy projects.
The study is accompanied by a wealth of background media literacy research contained in its 4 annexes, including detailed national summaries, summaries of the 547 featured projects supplemented by 145 detailed case studies. The  study was published in March 2017 and is available in English, French and German.